Playdate: Startup Simulation
Target Customers: Mobilized Parents
Many venture capitalists today understand the value of design and are demanding it early in the founding of start-ups. The goal of this project is to simulate a startup within the existing markets.
Playdate is our product.
Playdate helps families with young children find other like-minded families in their neighborhood.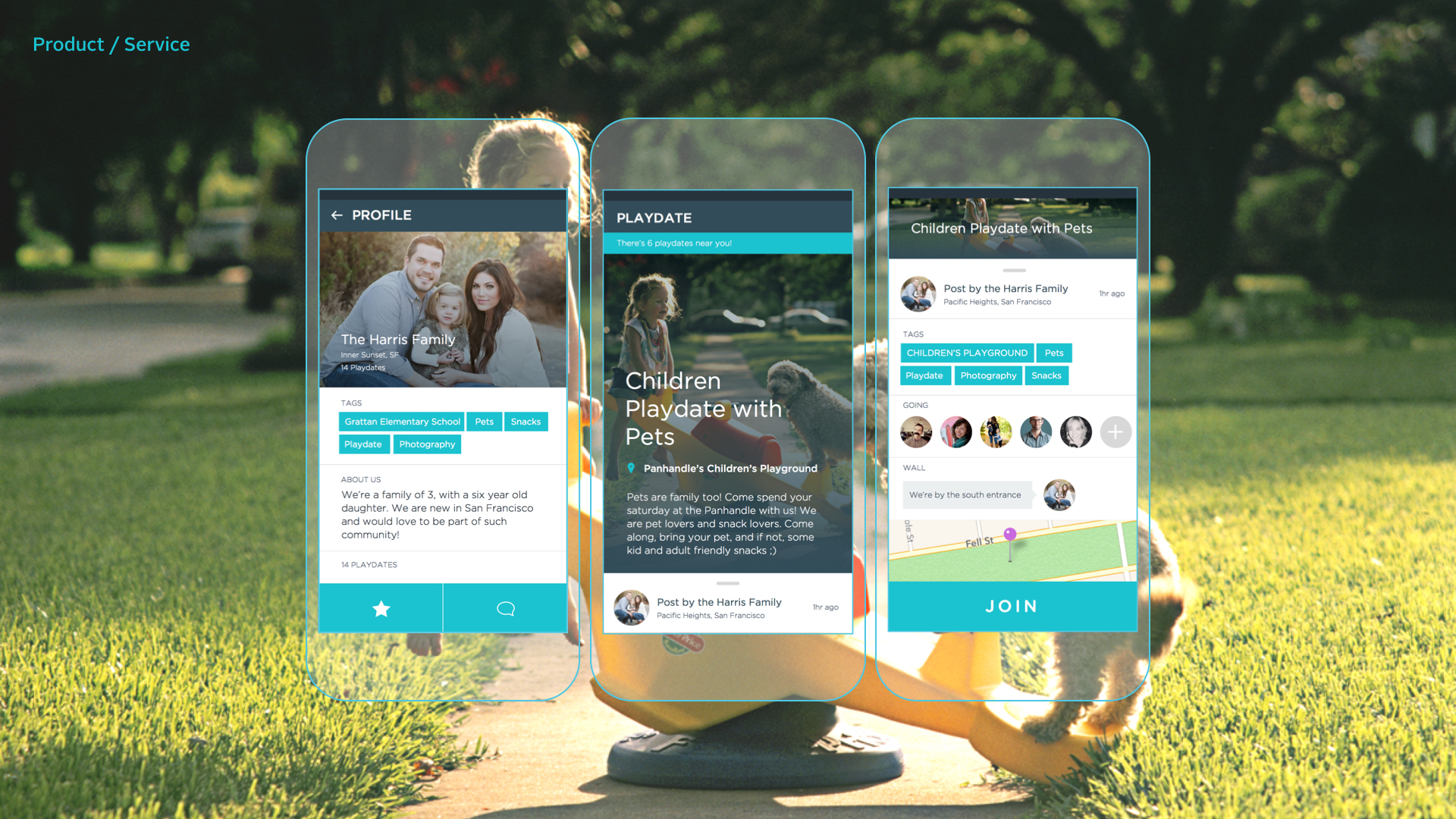 Playdate is a new location based networking app for families. We help connect families in similar neighborhoods and backgrounds to one another. Parents can set up events and invite other families in their proximity to join them on their play date.

We work with families to create the most accurate family profiles so each playdate is stress free, seamless and fun!
Playdate is a safe and private networking service just for your neighborhood families. Our customer representatives are online 24/7 to ensure the quality of the community is kept at its best.
So why Playdate?
Follow along our 13 weeks journey below:
We went out in the world, spoke to 224 parents, and send out more than 7,000 emails to generate this concept.
We adopted the 'LEAN UX' Methodology:
Measure:
Talk to customers to understand their pain and gain
We talked to 5 parents every week and conducted market research around our market:
TAM, SAM, SOM
Validating Product:
Creating Minimum Viable Product [MVP] to get ideas in customers' hand
We launched two 'smoke tests' to over 5000 parents in the Bay Area and measured over 600 clicks with 32 'fake door' sign ups
Product Market Fit:
Final product and service should deliver the value proposition that aligns with customers' pain and gain.
We 'concierge' hosted our product Playdate with 32 RSVP's. 8 families signed up on the spot and all together we had 40 attendees. Responses were positive and parents were asking, "where do I download the app?"
We had a weekly sprint cycle
Our mission is to gain Product Market Fit
We structured our MVP development in weekly sprints to allow maximum learnings.
After a 13 weeks cycle, we created and pitched Playdate. Follow along our Lean journey...
For research,
We talked to 5 parents and created empathy maps every week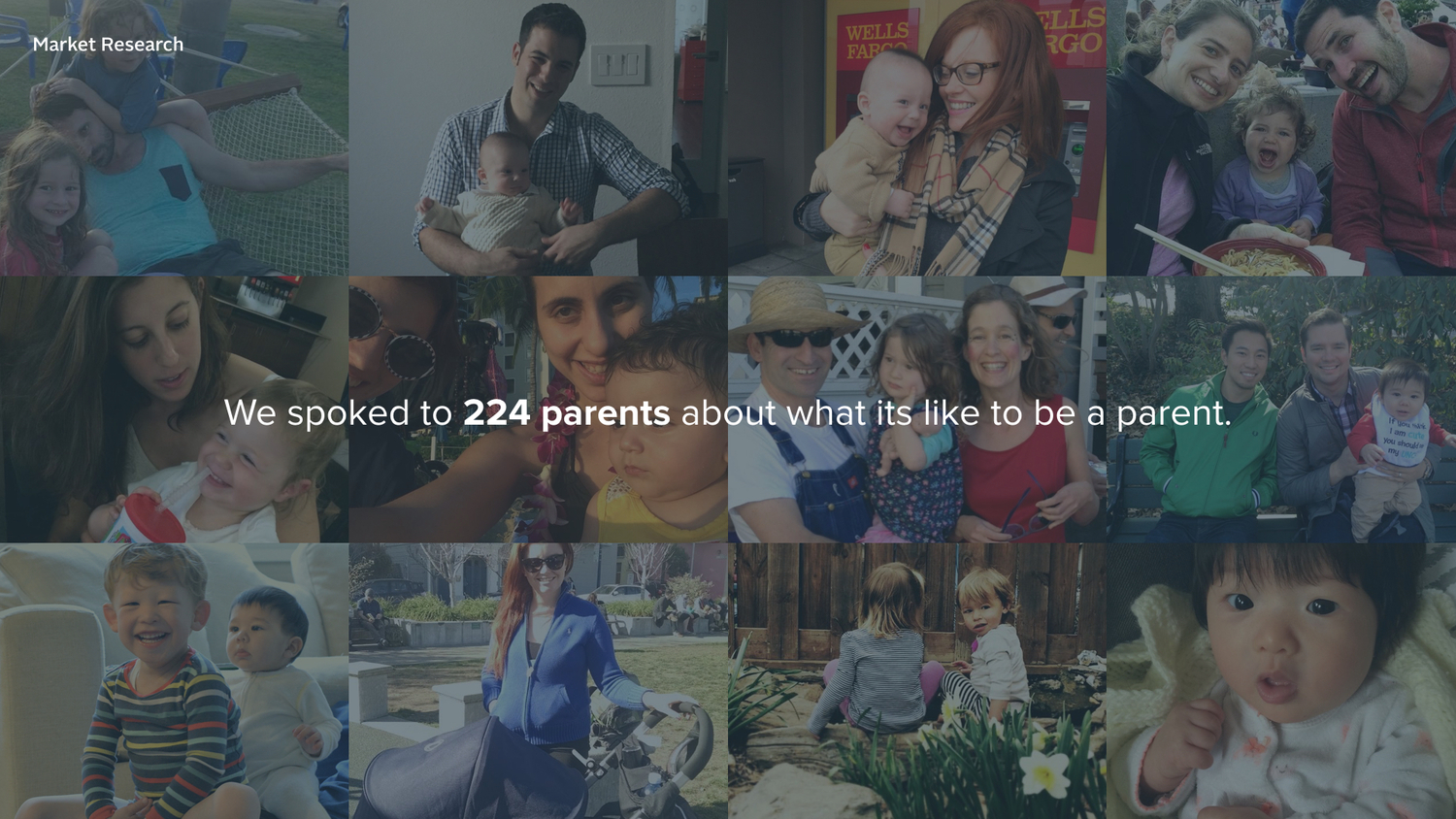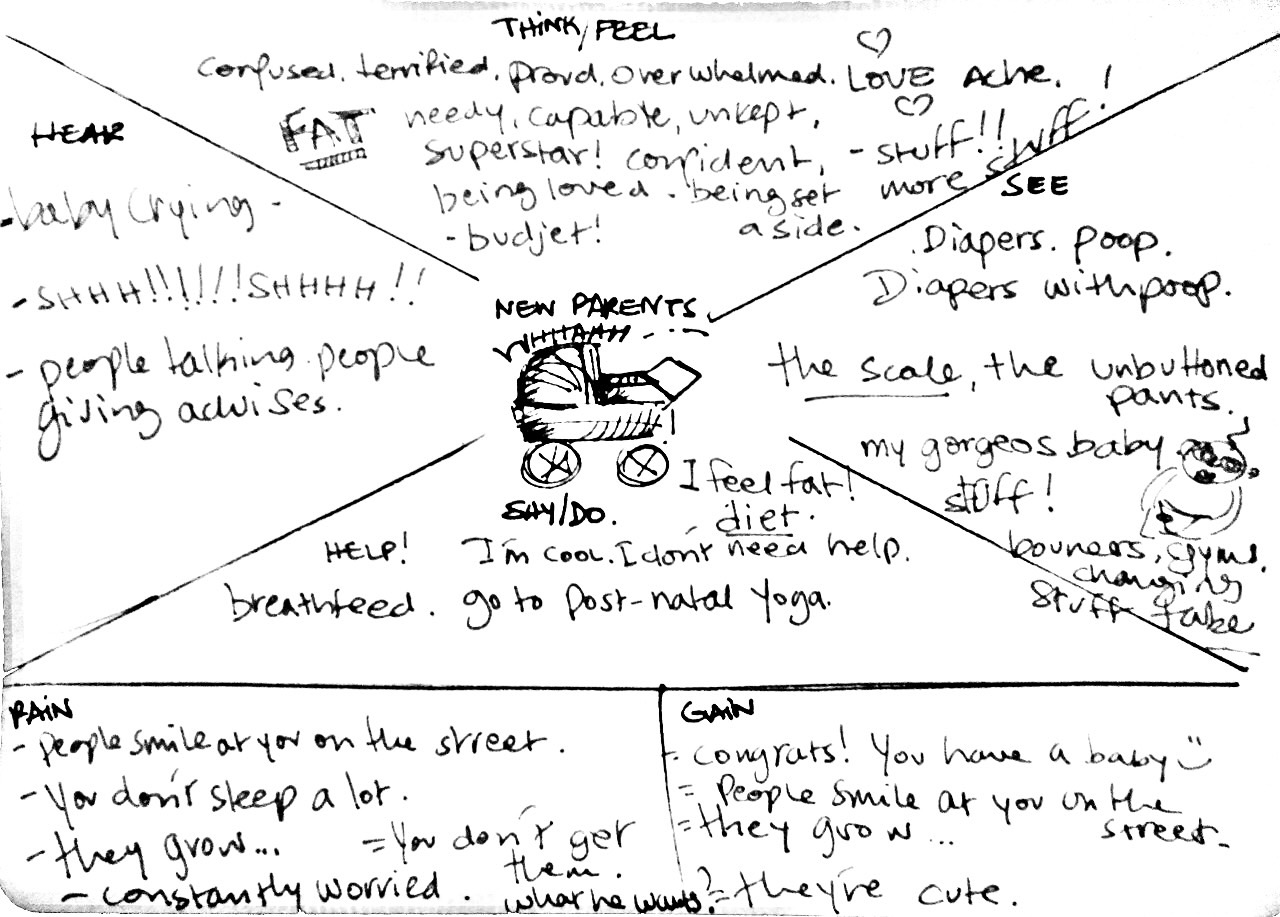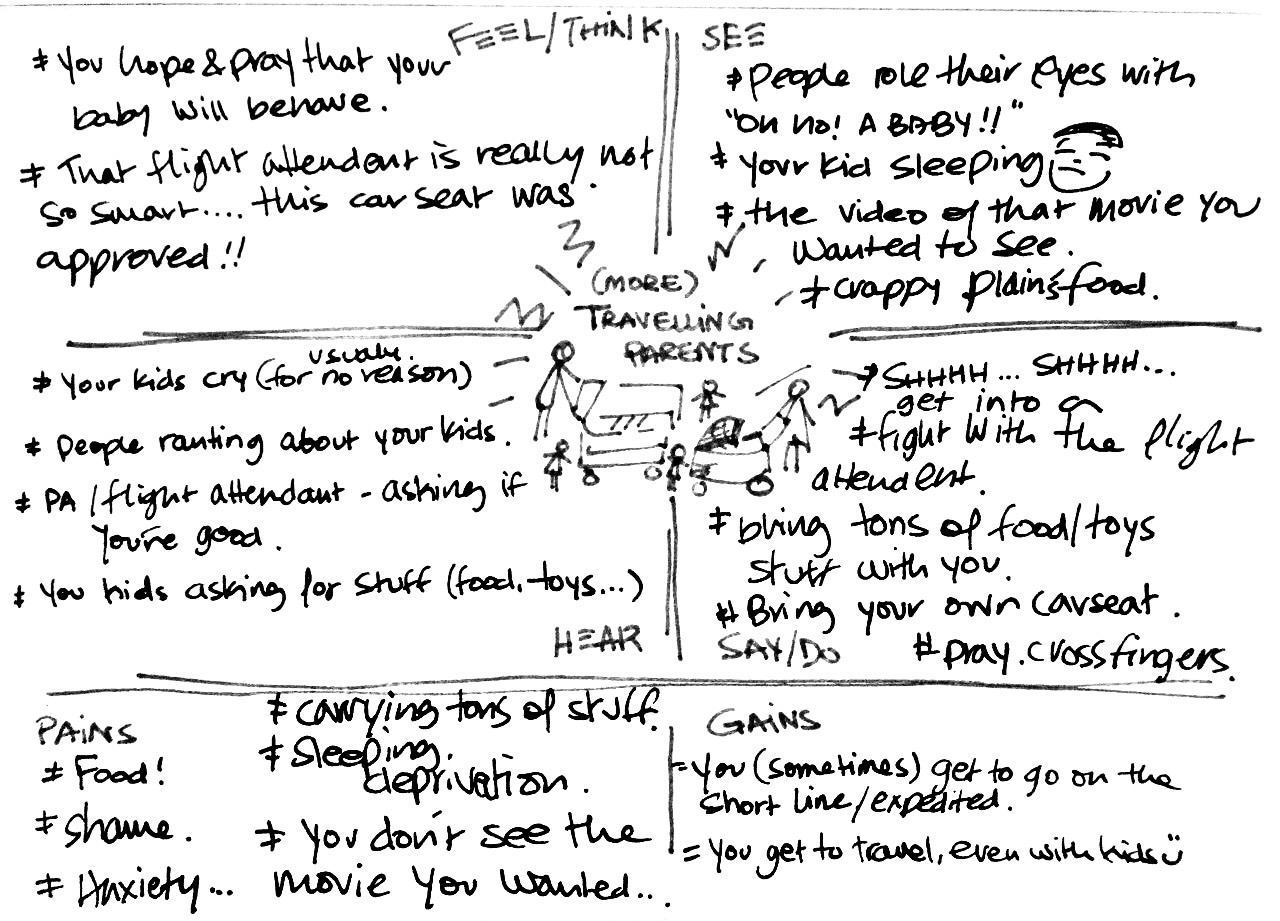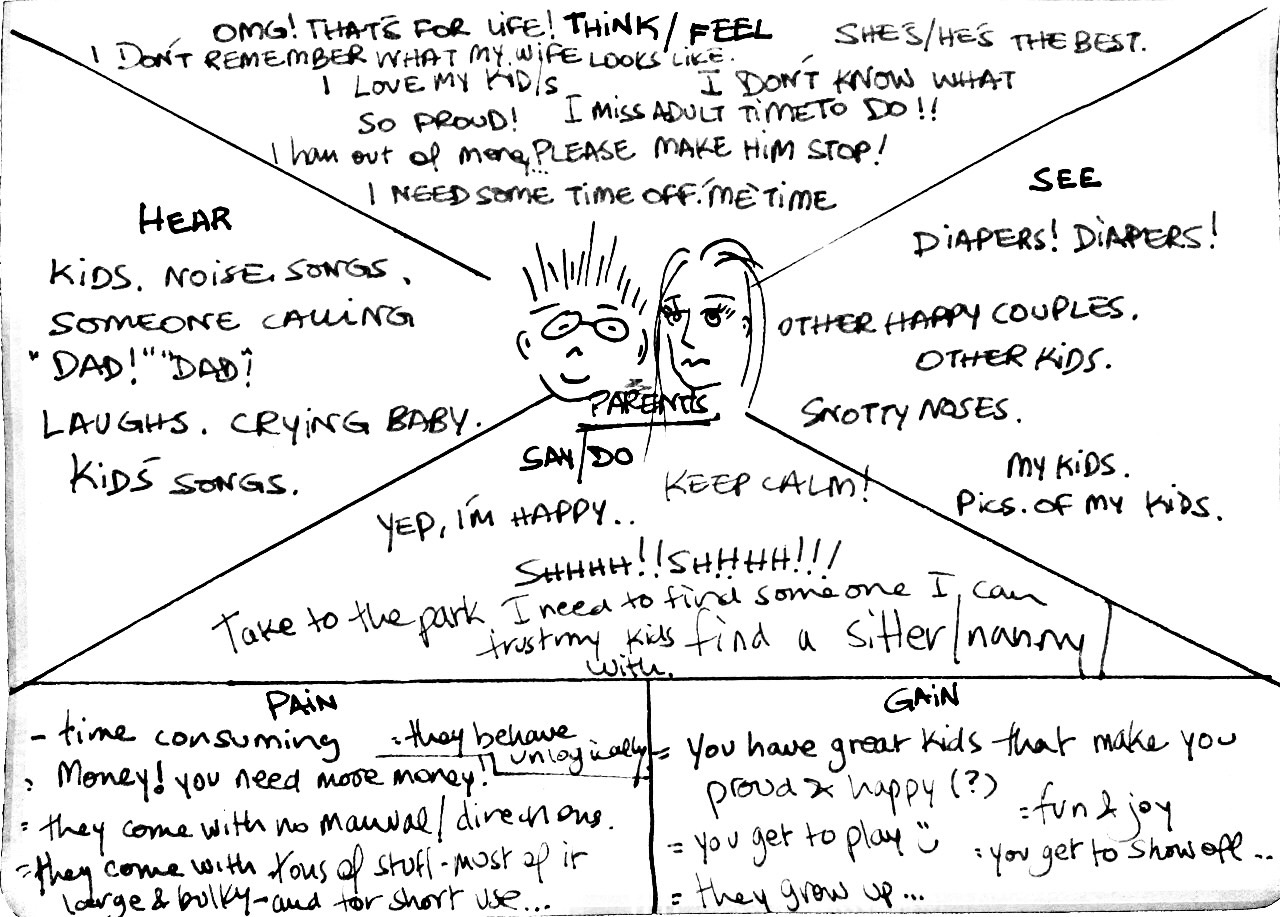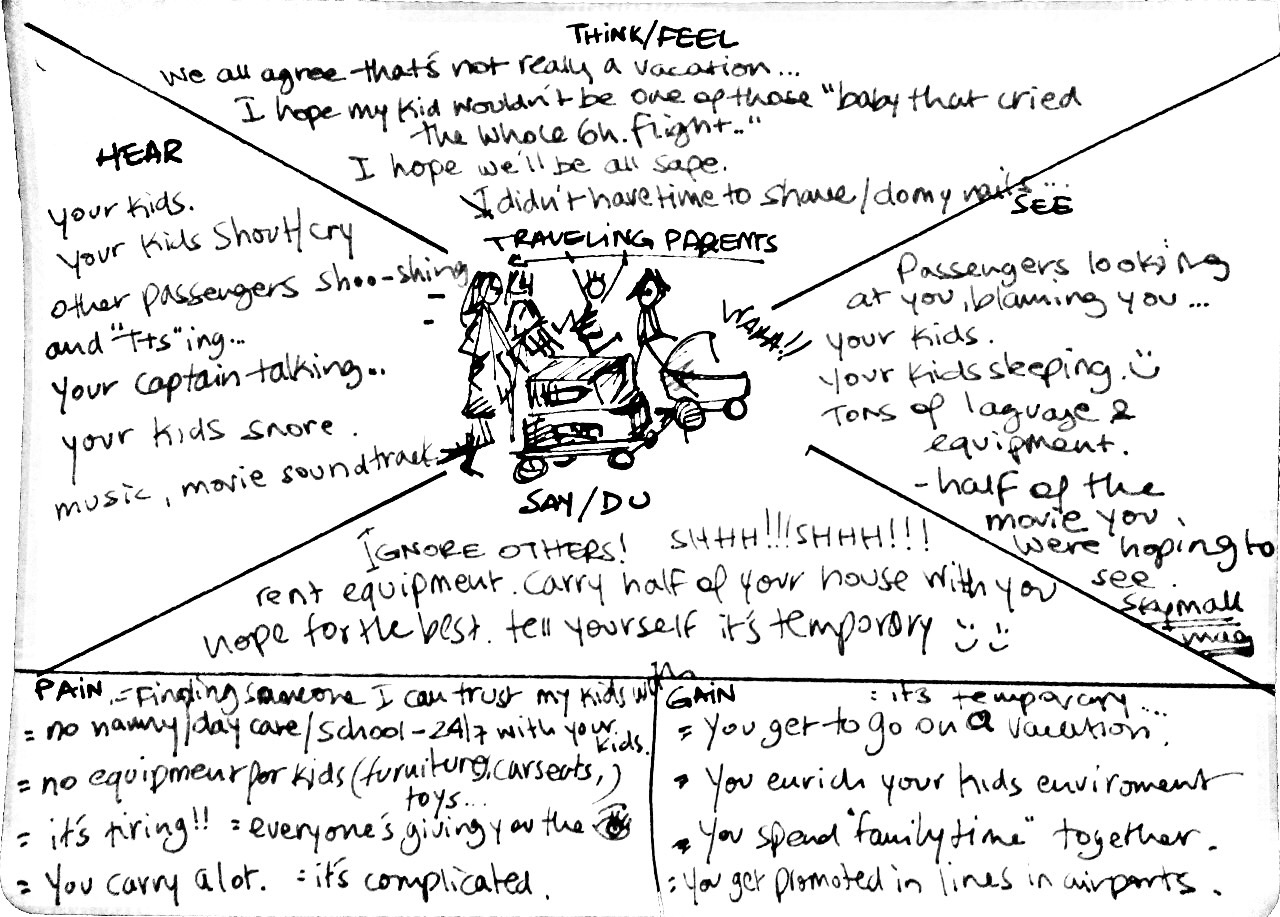 Class: Designers as Founders
Project Date: Jan - May 2015
Project Length: 1 Semester
Team:
CEO: Elaine Chu
CTO: Aaron Stevens
Head of Product: Brian Wong
Community: Dana Silberberg
Key Role: Product Development, Visual Interaction Design, Prototyping, and Market Research
Instructor: Christina Wodtke
Blog: Weekly Learnings >>
So we send out some smoke tests:
Go Babysitters
On week 4, we send out 'Go Babysitters' to 2000+ parents with 267 clicks, 4 signups, 5 responses
We asked questions like this:
How often do you use a babysitter?
How do you find a baby sitter?
What is important to you while seeking for a babysitter? Why?
Have you considered using a babysitting service while traveling?
Playdate
On week 6, we send out 'Playdate" to 5000+ parents with 441 clicks, 27 signups
We asked questions like this:
How do you make friends?
Who would you want to connect with?
Should we pivot or persevere?
From our 'Go Babysitter' smoke test, we found that parents seeking for babysitters adds an entire layer of complication; can I trust this babysitter? Thus, parents organically form 'playdates' to babysit each other kids, "I'll look after your kids today, and you'll look after my kids tomorrow."
As a team, we decided to pivot from a babysitting service to a networking service, with just the feature of matching parents with other parents who are interested in hanging out, in hopes that organic relationships will eventually form from this interaction.
Our data said that there's a market for it
Concept validations
Can we get parents out of their homes to meet other families?
We 'concierge' hosted our product Playdate with 32 RSVP's. 8 families signed up on the spot and all together we had 40 attendees.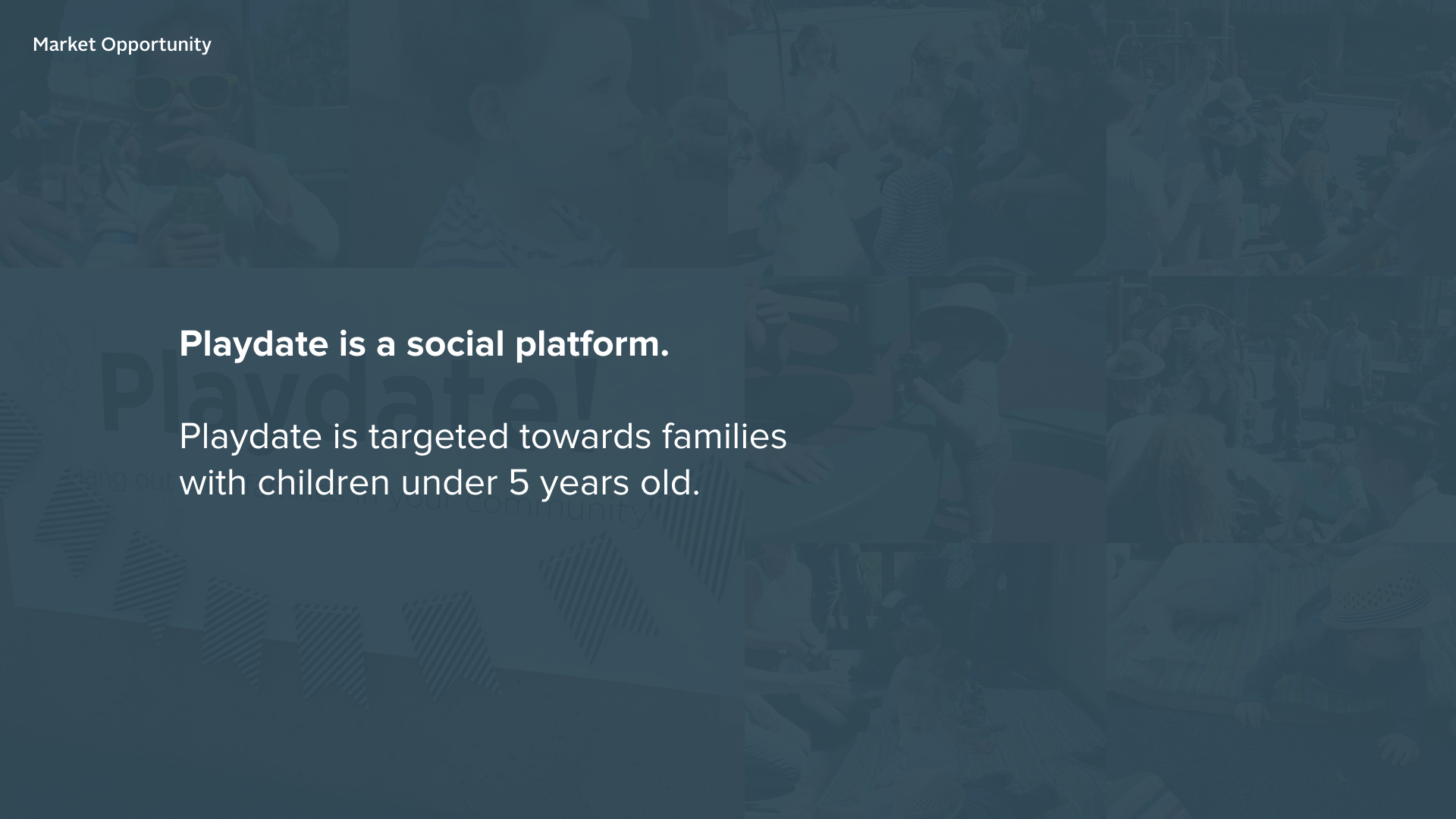 Parents' responses were positive and many were asking, "where do I download the app?"
The final validation
Will parents host their own playdate and give us money?
We created an thank you email to all those that came to our playdate last weekend through our RSVP and our onsite sign ups. In the thank you email, we gave parents the option to host their own playdates. We also offered the $5 option for parents to let us cater coffee and snacks for their playdate, which could potentially validate our potential sponsorship/feature opportunity.
Click here to visit our blog and view all our 'Smoke Test' and Email >>
Roadmap, and the Ask:
Marketing, Growth Strategy, and the Ask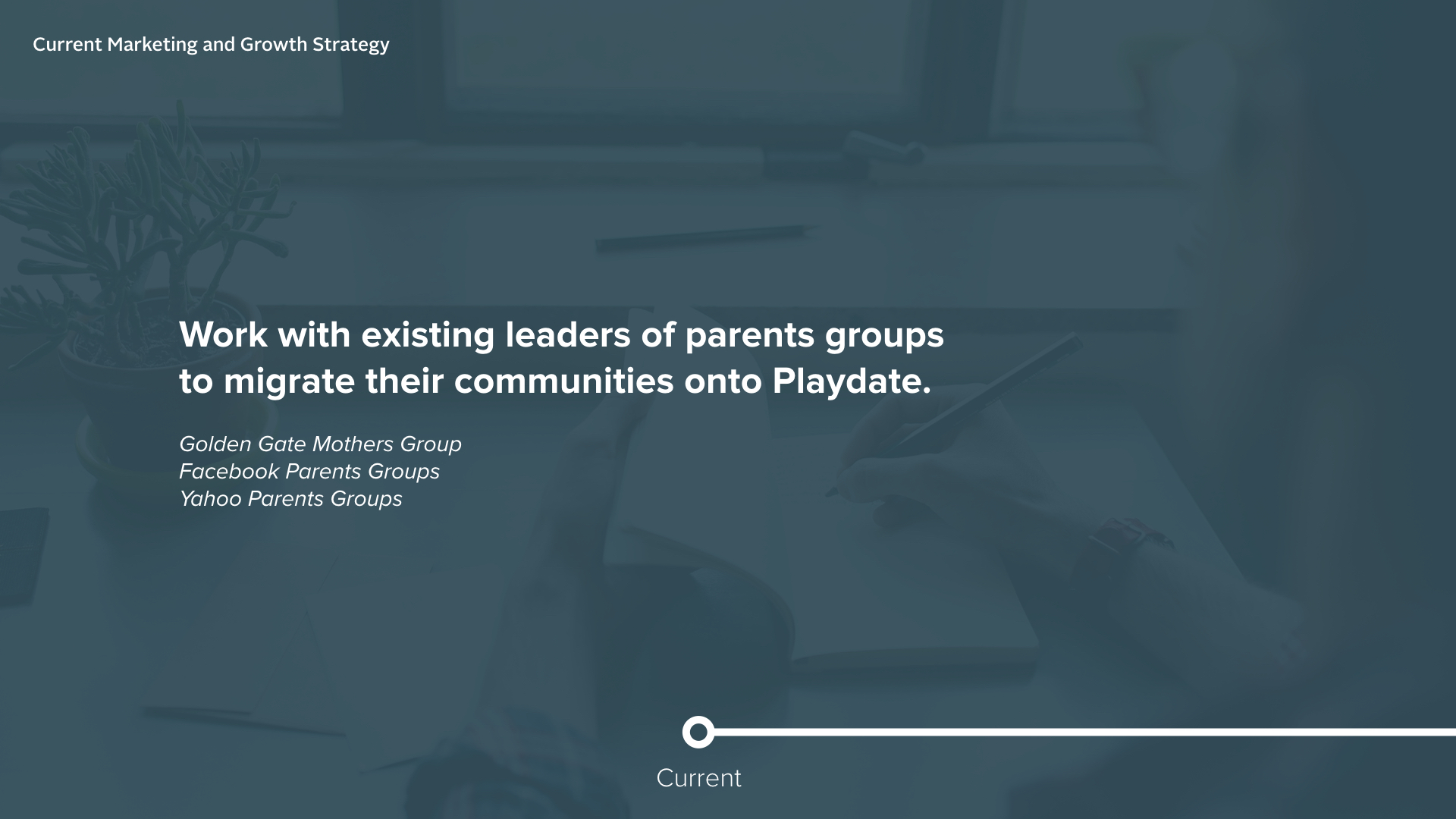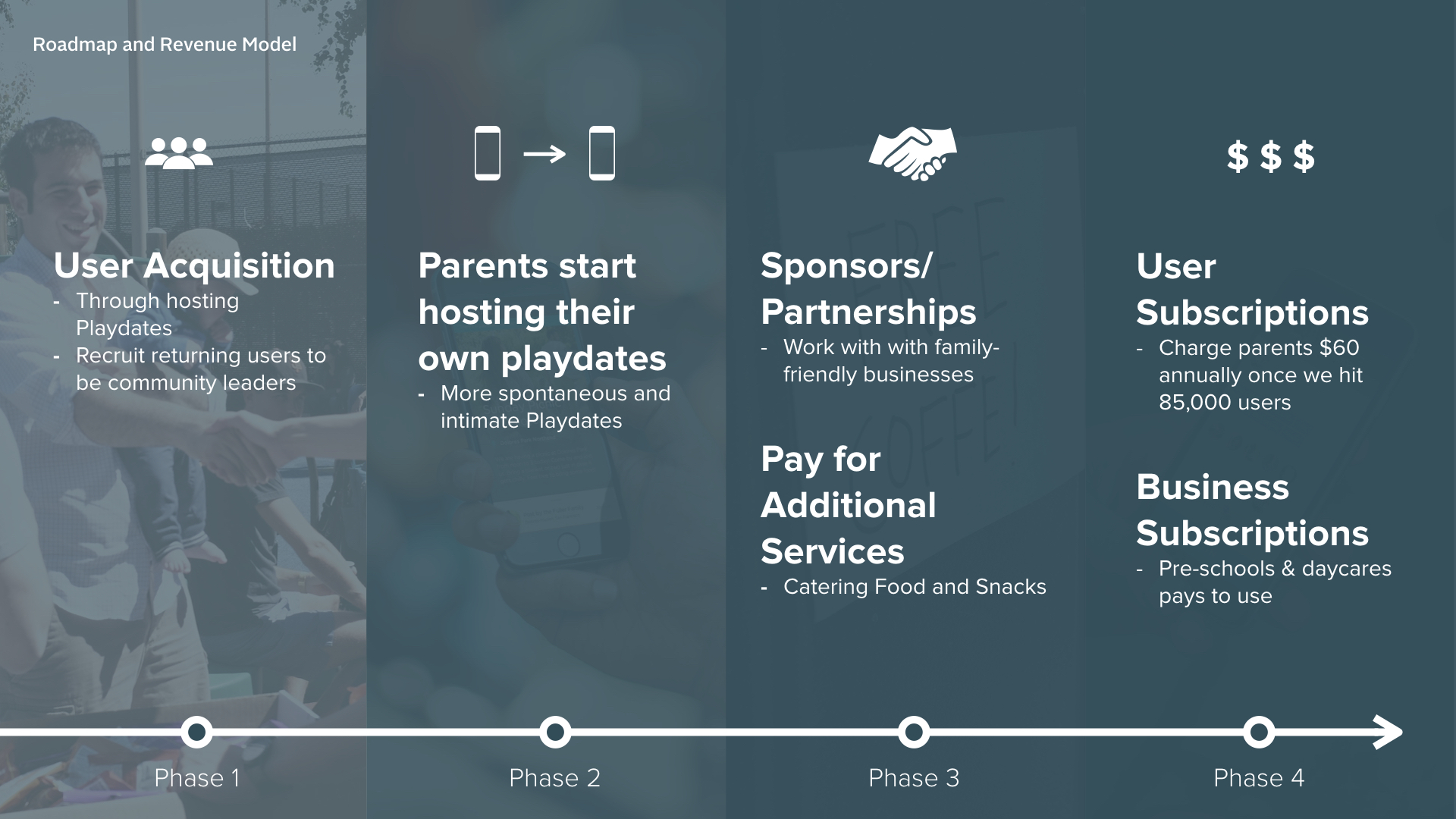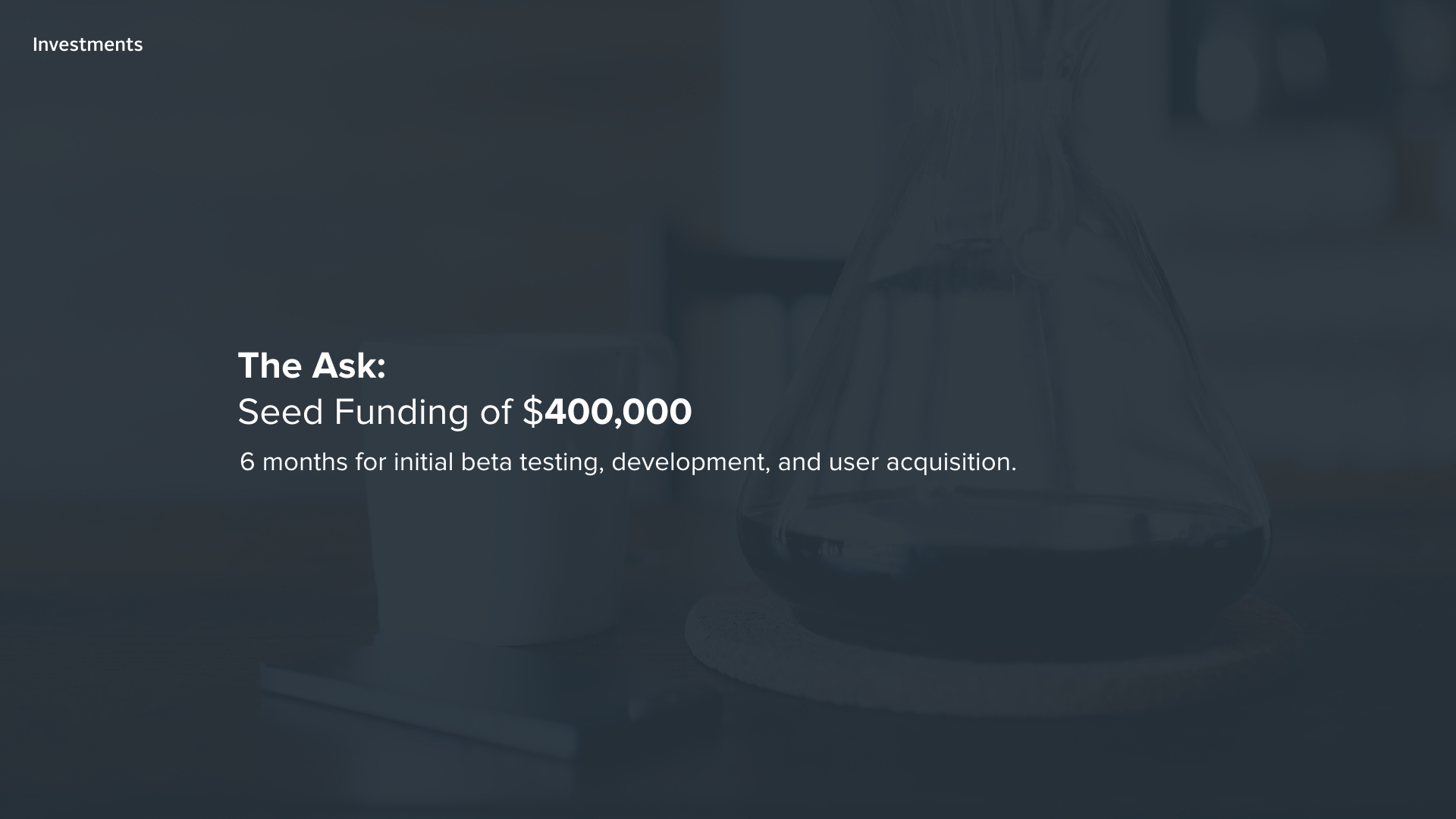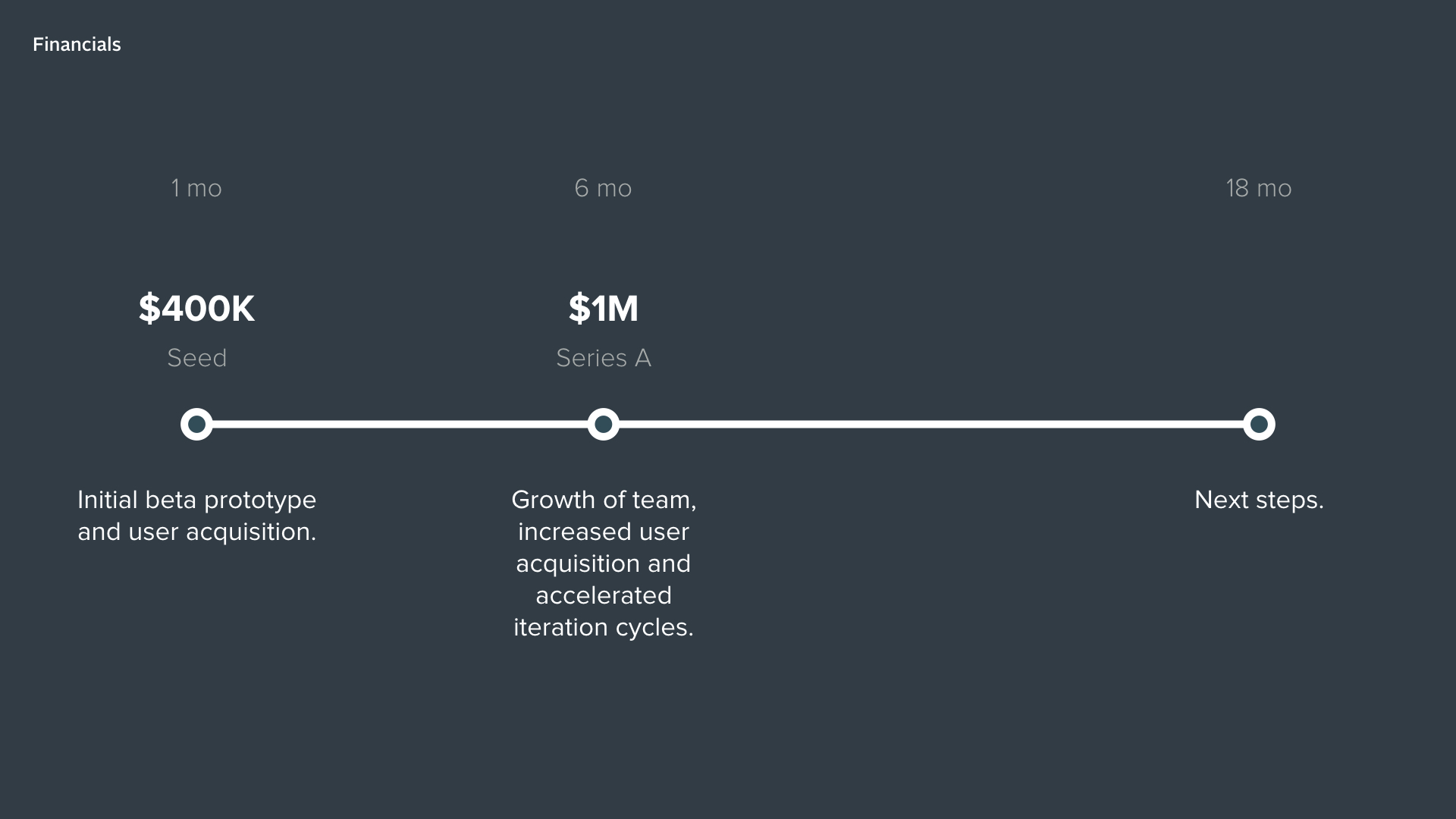 The Pitch, and Funding?
At the end of the course, we were asked to pitch our idea as if we were pitching for funding. Our grades would then be directly correlated to the percentage of fulfillment. Our classroom was set up like Shark Tank with 6venture capitalists, 3 of which were angel investors. After our pitch, we got fully funded – 6 sticky notes all with checkmarks, $1,000,000 dummy cash, and an A+ grading.
:)
Click here to visit our blog, and learn about our weekly learnings >>